By Dale Rollins
It's been several years since I had to rehearse the melancholy chorus of "No Quail, No Quail" (sang to the tune of the Christmas carol "Noel, Noel" but the the upcoming season looks to be such an occasion.  Our September roadside counts have proved to be highly (essentially perfectly) correlated  with our "Minimum Known Population" (MKP) derived from our fall trapping efforts.  These data taken from Brad Kubecka's MS thesis (2017).  Our average for counts (conducted four times last month) was "poor" (2 birds/mile; 3.2 birds/km), which puts it on par with 2011-13.
Blues comprised an estimated 36% of sightings contrasted with only 6% in 2017.  Trapping data will tell if these estimates are credible.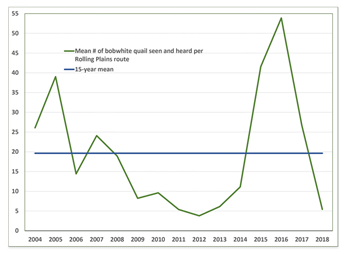 Many have pondered "will the bountiful rains (in many areas, not RPQRR though) stimulate a good late-season hatch?"  My opinion is "no"; we will undoubtedly see some late hatches but IMO they won't "pull our fat from the fire."  I hope I'm badly mistaken.  By contrast, areas in south Texas have a better chance to witness a late-summer resurrection.
TPWD just posted their quail forecast; it documented large declines in the Rolling Plains and Edwards Plateau, with average numbers in South Texas, and slightly above average for the High Plains.  See the results for various ecoregions at https://tpwd.texas.gov/huntwild/hunt/planning/quail_forecast/forecast/.